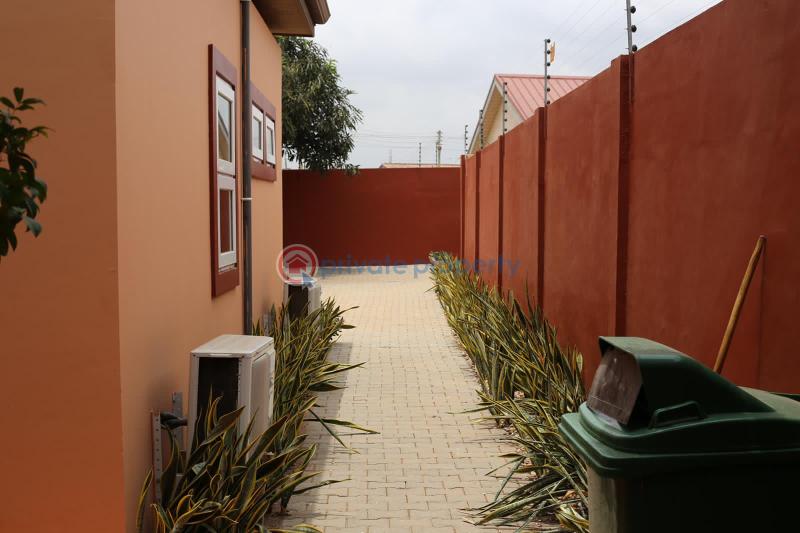 Interested in this property?
Tastefully Furnished House For Sale At East Legon
American House East Legon Accra
$ 450,000
4 bedroom House For Sale American House East Legon Accra
Safety Tips
Do not make any upfront payment as inspection fee or upfront payment for rent before seeing this property or seeing the agent you contacted physically. Private Property is not liable for monetary transactions between you and the agents.
The contact agent on properties listed on Private Property does not represent Private Property. Private Property will not mandate agents to ask for fees upfront.
Property Detail
Property Type

House

Sqm

260

Added

21 Jul 2023
Description
4 bedroom House For Sale American House East Legon Accra selling for $450,000. See property details on PrivatePropertyGhana.com or browse all our range of properties in East Legon Accra
Welcome to this stunning fully furnished 4-bedroom house, nestled in a serene enclave behind American House in East Legon. This exceptional property boasts a 10kva backup solar system, ensuring uninterrupted power supply, and a meticulously landscaped garden that adds a touch of tranquility to your surroundings. With a long driveway and a spacious backyard, there's ample space for outdoor activities and entertainment.
Security is a top priority with a dedicated security post, providing peace of mind for you and your loved ones. Water storage won't be a concern, thanks to the presence of two storage tanks equipped with a pump.
Step inside to discover a guest washroom, a dining area that comfortably seats 6, and a fully fitted kitchen complete with appliances, including a microwave, oven, washing machine, and cooker.
Each of the four bedrooms is equipped with a full washroom, wardrobes, and air conditioning units, ensuring utmost comfort and convenience. Additionally, there's a dedicated study/home office area, perfect for remote work or personal projects.
The asking price for this remarkable property is $450,000, offering exceptional value for its features and location. The property size measures 260 sqm, and the land spans an impressive 0.24 acres.
Don't miss the opportunity to make this luxurious residence your own. Contact us now to schedule a viewing and experience the epitome of comfortable living in East Legon.
See more description
Interested in this property?
Listing is verified as real
If reported as fake, we'll investigate.
Price Trends
Similar listings
Is this listing fake or showing any false or inaccurate information?
Report listing
Is this listing fake or showing any false or inaccurate information?
Report listing